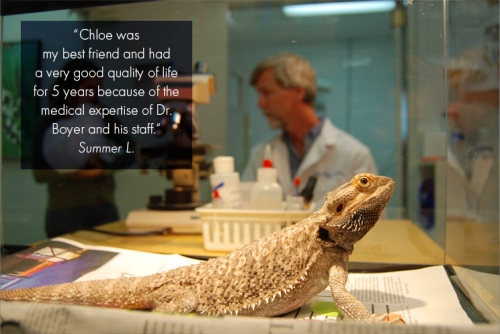 Our Mission
---
The Pet Hospital of Penasquitos in San Diego is a full service small animal veterinary hospital and our mission is to provide you and your pet with the highest standard of quality and compassionate veterinary care for your dogs, cats, tortoises, turtles, snakes, lizards, amphibians, rabbits, ferrets, chickens and exotic pets in a welcoming, informative, and caring atmosphere to better serve you, the pet owner. We are a family-owned business and we strive to practice the best medicine for you and your pets. We are conveniently located off highway 56, Rancho Penasquitos Blvd and Carmel Mountain Rd, in the heart of Rancho Penasquitos and minutes away from Carmel Valley, West View, Sabre Springs, Poway, 4S Ranch and Rancho Bernardo.
We offer competitive pricing, same day appointments, early drop off, overnight care, extended Saturday hours and a caring friendly veterinary care team to assist you in any possible way. The Pet Hospital of Penasquitos offers daytime emergency care in addition to standard medical, surgical and dental veterinary care. Our in-house pharmacy, laboratory, radiology facilities and state-of-the-art anesthesia and monitoring equipment ensure your pet will receive the best care. Dr. Boyer is a specialist in reptiles and amphibians. If we can't provide the care your pet needs we will not hesitate to refer you to a specialist who can provide the care your pet requires.
The Pet Hospital of Penasquitos is an accredited member of the American Animal Hospital Association (AAHA) which sets standards for quality pet care in veterinary hospitals. Only 1 in 5 veterinary hospitals in the United States is AAHA accredited. As a an accredited hospital we voluntarily uphold the association's high standards in 18 different areas, including patient care, surgery, pharmacy, laboratory, exam facilities, pet health records, cleanliness, emergency services, dental and nursing care, diagnostic imaging, anesthesiology and continuing education. Our commitment to you is to provide quality veterinary care throughout the life of your pet. Our services and facilities are designed to assist in preventive care for young, healthy pets, early detection and treatment of disease as your pet ages, with complete medical and surgical care as necessary during the lifetime of your dog, cat and exotic pets.
We understand the special role your pet plays in your family and we are dedicated to be your partner in your pet's health care. Our purpose is to provide a caring, gentle, helpful and educational environment for all our patients and to practice the highest quality medicine with compassion with an emphasis on you and your pet with the personal attention to answer all your concerns. Dr. Boyer and our team will be here when you need us.
Click here to read more about Dr. Boyer